| Item ID | Starting Bid | Bids | Current Bid |
| --- | --- | --- | --- |
| 109004 | $2.00 | 8 | $8.50 |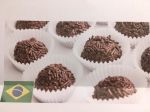 This certicifate entitles the bearer to a plate of thirty (30) delicious brigadeiro for your holiday festivities or just to enjoy as a unique treat.
Brigadeiro is a common Brazilian delicacy, made from condensed milk, cocoa powder, butter and chocolate sprinkles to cover the outside layer. Brigadeiro makes up a big part of the Brazilian culture and is said to be a national icon.
Brigadeiro has a sentimental value to all Brazilians - eating a brigadeiro is said to give people a familiar sensation because it is a way to remember happy times spent with family and friends.
** one week notice required**